Testing the future: e-mobility testing in test benches for electric drive systems
"Beam me up, Scotty!" People have always dreamed of faster, better, more innovative ways of getting around. Admittedly, teleporting is probably still a long way off. But the visions and concepts of the automotive industry for moving people and transporting their goods are no less exciting and will soon become reality. What used to be science fiction in Hollywood films and television series is now partly taking place. Automated driving is already possible in many cars. Cars that glide across the road quietly and with low emissions, and at some point even without a driver, are the vision. A new world of mobility is emerging and e-mobility is its main driver.
As the saying goes: The light bulb was not invented because a lot was invested in the optimization of candles. Progress cannot be stopped. Today, the automotive industry is at a point of technical revolution. E-mobility — in conjunction with autonomous driving — will significantly change the automotive market. One hundred thirty-one years after the invention of the automobile, the type of vehicle, kind of driving, and style of the driving experience are changing significantly. The new technology also brings with it new opportunities and possibilities for innovative mobility concepts. Soon the picture on our streets will have changed. Autonomous vehicles, passenger drones, or super scooters will bring people from A to B in a group or individually in the near future. E-mobility plays a major role here, if the traffic is to roll or float quietly, safely, and in an environmentally friendly manner.
The future has started
Automobile manufacturers and suppliers are investing millions into designing new electric drive systems and electric vehicles. To make the development of electric and hybrid vehicle prototypes as efficient as possible, testing has to take place early. Through determining the service life of individual components, measuring the efficiency of transmissions, and simulating environmental factors in the test bench, problems can be recognized early and performance values optimized. ATESTEO recognized the sign of the times at an early point in time. Since 2008, the specialist for drivetrain testing has conducted tests of electric and hybrid drive systems at its test benches. Approximately 10% of all tests are already today being done on the new type of traction systems.
At ATESTEO, all drivetrain components of vehicles with electric or hybrid drive systems can be tested in special test benches.
Drivetrain testing for electric drive systems and hybrid drive systems
The demand for vehicles with alternative drive systems is rapidly growing around the world. Now is the time to react to the new demands and be a step ahead of the market. Therefore, ATESTEO, as a partner of the international automobile and automotive supply industries, added testing of electric motors, inverters, auxiliary electrical components, and hybrid drive systems to its range of offered services early on. Over 30 years of experience in testing powertrains and more than ten years of expertise in testing electric and hybrid drive systems flow into the testing processes. With multifunctional test benches, the special parameters for e-axles can be configured quickly and flexibly. Hybrid drive systems are tested at virtual test benches. In addition, the engineers at ATESTEO test hybrid and electric drive systems at e-motor test benches, hybrid drivetrain test benches, test benches with battery simulators, and NVH (noise, vibration, and harshness) test benches.
Electric motor test bench at ATESTEO with installed machine power of 320 kW and 2,700 kW.
Improve classic drives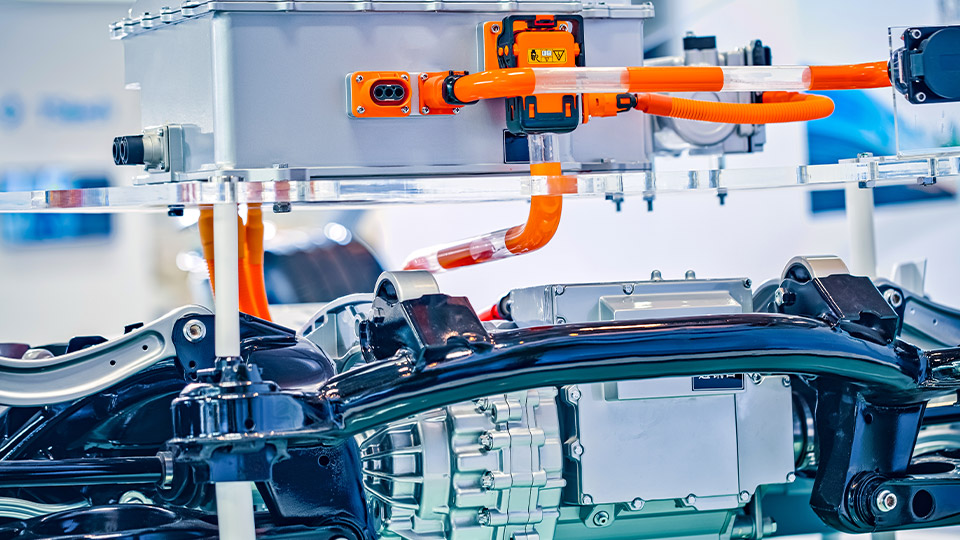 One of the most exciting challenges of the future is also the optimization of existing propulsion systems with internal combustion engines. The goal is to significantly increase the efficiency and environmental sustainability of petrol-powered (gasoline-powered) and diesel-powered automobiles. In this area as well, ATESTEO supports manufacturers and suppliers to develop transmissions and drivetrains with lower emissions and higher efficiency by testing transmissions, components, and vehicles.
Conclusion:
The electrification of road traffic will come. The vision of networked, autonomous driving with electric or hybrid drive systems will become reality in the near future. To this end, the automobile industry is now working on the realization of optimal electric vehicles and nationwide charging networks. In order to localize and eliminate errors and inefficiencies in the lengthy and cost-intensive development of new electric drives at an early stage, reliable, valid tests of the drivetrain are required. This is where ATESTEO has established itself as a partner of the automobile manufacturers and drive system developers. With a total of more than 150 test benches in Germany and China along with testing locations in Japan and the USA, ATESTEO is equipped for the automotive future. Regardless of the requirements of the new drives and mobility concepts, the specialist for drivetrain testing is available to the automotive industry around the globe with efficient, valid on-site testing services.
About the Author: ATESTEO