DF series torque measuring flanges
The DF series torquemeters by the numbers
Maximum speeds of up to 25,000 rpm
Accuracy class: 0.04% F.S. (full scale)
A-D converter: 24 bit
D-A for analogue output: 16 bit
Total sampling rate: 25 kHz
Operating temperature range: 0…85°C
Rated gap distance: < 4 mm
Limit torque: 300%
Customer-specific measuring ranges on request
The DF series torque measuring flanges feature an innovative measuring element in combination with digital multi-channel telemetry. This enables an extremely wide bandwidth of installation and measurement arrangements. The torquemeter is unique in that it features three genuine strain gauge amplifiers electronics of the rotor. The additional overflow channel transmits measurement values of up to 300% of the nominal torque. The rotor temperature is also signaled. The flange dimensions of the DF series conform to the DIN norm and are compatible with existing systems.
Our DF series torquemeters
Smart sensor, highest precision. Extensive interfaces and diagnostic options. Very simple mounting.
Nominal torque freely selectable in the range from 100 to 10,000 Nm
Accuracy class 0.04 (optional 0.03)
Digital multi-channel telemetry 24 bit
Ringless stator with up to 4mm distance
Optional: two real measuring ranges
Overload channel 300% as monitoring channel
Outputs F, U, CAN, Alarm
Bolt circle Ø = 84 mm – 196 mm
Optional max. speed up to 25,000 rpm
If you are looking for torque measuring shafts with torques >10.000 Nm, you will find them here: F series
You can find all further information about the torque transducer series DF in our current performance brochure.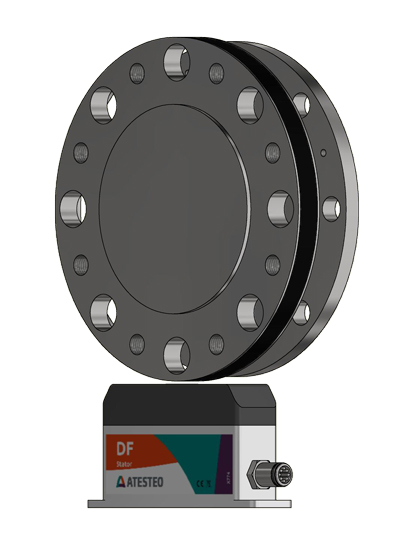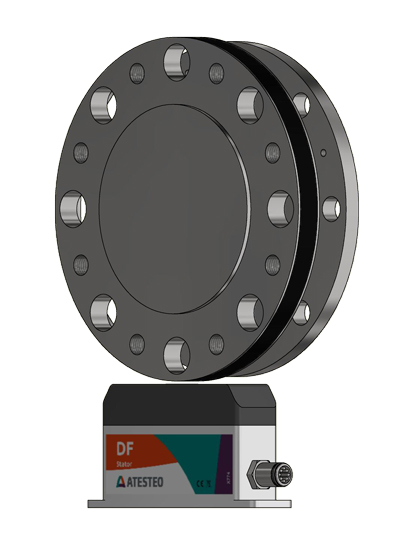 Interfaces for DF series
Frequency output (RS422): 10±5 kHz, 60±20 kHz, 60±30 kHz, 240±120 kHz
Analogue output: 0-5 V, 0-10 V, ±5 V, ±10 V
CAN (2B, 2 kHz)
Magnetic speed sensor optional
Ethernet (10/100 Mbit)
Your desired product is not listed or you need specific requirements for your product? Then send us an e-mail. We will be happy to advise you.
We are looking forward to your message!
By sending this form, you are transmitting personal data to us. We use this data exclusively to fulfil your wishes and requirements, in particular to answer your enquiry. Your information, including the contact details you provide there, may be stored by us for the purpose of processing the enquiry and in the event of follow-up questions. The legal basis is Art. 6 para. 1 letter b DSGVO (pre-contractual measures and fulfilment of contract). Your personal data will not be passed on, sold or otherwise transferred to third parties unless you have expressly consented to the transfer of your data beforehand. The legal basis is Art. 6 para. 1 letter b DSGVO (fulfilment of contract) or Art. 6 para. 1 letter a DSGVO (consent). Please note that data transmission on the internet (e.g. communication by e-mail) can have security gaps. Complete protection of data against access by third parties is not possible.