ATESTEO in the Chinese automotive market
Successful presence of the leading specialist for drivetrain testing at the Testing Expo Shanghai and setting up of a new corporate location in Tianjin near Beijing.
The automotive market in China is booming. The demand for automobiles in the Middle Kingdom is high and the number of new vehicles being registered is increasing. Foreign manufacturers, as well, have new opportunities to enter into this growth market through the gradual removal of governmental rules. ATESTEO saw the sign of the times early and has been active in this growth market for some time. At its locations in China, of which there will soon be two, the leading specialist for drivetrain testing offers Chinese and international automobile manufacturers state-of-the-art technologies and innovative services in automotive testing. At exhibitions such as Testing Expo Shanghai, ATESTEO also seeks a dialogue with automotive industry experts in China.
The topic of electro mobility (e-mobility) is setting trends in China as well. With high numbers of registrations of vehicles, the Chinese market is leading in using electric automobiles. The domestic automotive industry is increasingly relying on electric and hybrid drive systems. That increases the need for testing the new drive systems as early as the development phase. For this testing, at what are soon to be two locations, ATESTEO makes available a wide variety of drivetrain testing services and powertrain testing products, including especially testing hybrid and electric drive systems and simulating battery systems at its own e-mobility test benches.
The drivetrain testing services and products at the GRC: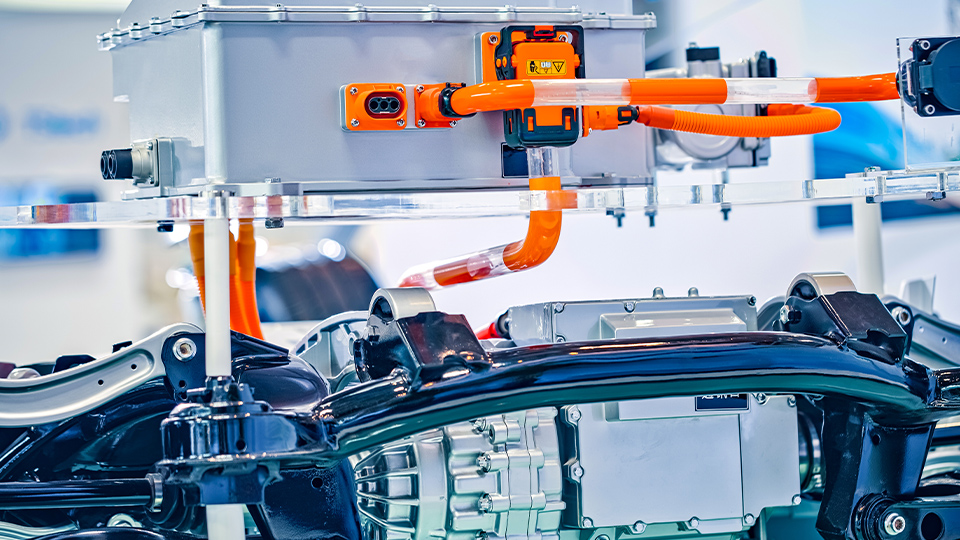 E-mobility testing: At the GRC, the drivetrain is tested for service life (endurance), degree of efficiency, and interactions with its environment. This involves the testing of electric motors, inverters, and auxiliary electrical components along with hybrid drive systems and the simulation of battery systems.
NVH (noise, vibration, and harshness) testing: The GRC has a state-of-the-art NVH test bench with testing possibilities for electric, hybrid, and conventional drive systems and drivetrain components. NVH benchmarking for transmissions is also possible here. This allows NVH phenomena to be recognised early and components to be optimised as early as during development.
Measurement systems: The measurement systems at the GRC are advanced high-resolution torque and speed systems with contactless signal transmission from ATESTEO. The measurement shafts have a high degree of accuracy, are easy to install, and have a large measurement range.
Vehicle equipment: The GRC offers all possibilities for equipping passenger vehicles and utility vehicles with technical measurement equipment, from vehicle instrumentation to conducting and analysing the measurements. With accurate measuring equipment, specific data from series or prototype vehicles is collected and made available for the development of new vehicle concepts.
Hot gas tests: Sales and marketing of the complete ATESTEO hot gas test bench services
HiL (hardware in the loop) testing: The GRC offers testing possibilities for comprehensive control device and network tests. The associated test automation software CANoe is seamlessly integrated in vTESTstudio and ODXStudio, making both the automation test and the diagnostic test more convenient.
New ATESTEO location in Tianjin
To offer its services even more comprehensively and more broadly, ATESTEO will soon be opening a new location in Tianjin — the GRC North Testing Center (NTC). The NTC will be equipped in two phases with state-of-the-art ATESTEO test benches. A total of 20 test benches will be put into operation in Tianjin. The tests will be supervised by experienced Chinese and German engineers. With the new location in Tianjin and the existing location in Suzhou, ATESTEO covers the areas of high population density of Beijing and Shanghai. ATESTEO is therefore located right on the spot in China where transmission and drivetrain development takes place.
Signing of the founding agreement of ATESTEO GRC (Tianjin) North Testing Center Co. Ltd. in Tianjin in 2017. The facility will open soon.
Expertise in e-mobility testing and modern testing services for the Chinese market
At its location in Tianjin, ATESTEO offers the Chinese automotive industry reliable and effective drivetrain testing with a focus on e-mobility testing. Besides testing of conventional transmissions on test benches with three electric drive motors, also testing of electric and hybrid drive systems takes place at the NTC.
Equipment and facilities at the NTC:
State-of-the-art test benches
Test bench control software PDES
Cold water conditioning
Climate chamber
Faurndau ASM 280L AC dynamometers
High-speed PM dynos
ATESTEO drivetrain test bench with climate chamber
With current testing topics in China right up to date and right on the spot: ATESTEO at the Testing Expo Shanghai
The dialogue with the world of automobile specialists in China is important for ATESTEO in order to develop and combine exactly the offerings for the market that are needed locally. Therefore, ATESTEO exhibited at Testing Expo Shanghai from 24 to 26 September 2018, showing which possibilities the leading specialist for drivetrain testing, which is German but active worldwide, offers the automotive industry in China. The employees in China were delighted to see three days of large crowds of interested professionals at the stand. From a total of approximately 6,000 attendees of the exhibition, many interesting contacts came to ATESTEO. The visitors at the stand received information on testing equipment and facilities for automotive testing such as torque measuring systems, actuators, and a hot gas test bench, and of course also the possibilities for e-mobility testing. NVH tests are also important for automobile manufacturers and automotive suppliers. To address this topic, ATESTEO had brought along technologies for testing components, vibrations, and e-axles. Through 3D models accurate down to the last detail, the exhibition attendees were shown the set-up of an NVH test bench and provided with visualisations of NEV High Speed Testing at ATESTEO. The vehicle equipment from ATESTEO was also met with a tremendous amount of interest. Side shaft torque measurement and vehicle instrumentation were only some of the many topics shown at the exhibition booth.
Illustrative 3D model of the NVH test bench and of the NEV High Speed Testing at ATESTEO
About the Author: ATESTEO