Make the impossible possible: e-mobility testing at the highest speeds and high torque values
ATESTEO installs high-speed machines for testing of high-performance e-drive systems
Hall 3 at the ATESTEO testing site in Alsdorf will become a synonym for e-mobility testing of the future. This is where ATESTEO is turning the most modern testing facility for electric drive units and e-motors in all of Europe into reality. In order to control the high speeds required for e-mobility testing, state-of-the-art converter/inverter systems have been installed in Hall 3, along with high-speed machines capable of up to 25,000 rpm and torque values of up to 800 Nm. This allows for the testing of e-motors and transmissions of electric drive systems up to and beyond their optimum performance.
Newly developed e-drives are capable of ever-higher performance. To test e-drives and powerful e-motors to their full potential, the new converter/inverter systems at ATESTEO provide all the power necessary to drive high-speed machines up to 25,000 rpm at 200 Nm on the test bench. Starting in February 2023, manufacturers of electric sports cars including Formula E racing cars, as well as developers of e-drive systems, will be able to test their drive-systems up to their limit at ATESTEO.
Applications for the entire range of e-mobility development
From the beginning to the end of e-mobility testing, we offer our customers every testing option possible.
The new standard in high-performance e-mobility testing
As a pioneer in e-mobility testing, ATESTEO has set a new standard in drivetrain testing of electric drive systems. The special feature: up to 1 megawatt can be supplied for e-motor testing; that is a full 1,000 volts and 1,000 amperes! This modernization also enables the cooling of test objects down to 10 °C during standard tests, while environmental simulation testing can be carried out with temperatures ranging from -60 °C to 160 °C and varying levels of humidity.
Powerful electric machines that simulate engines, motors, and wheels make is possible for ATESTEO to offer an extensive range of tests in Hall 3 for powertrains of vehicles up to the super sports cars category.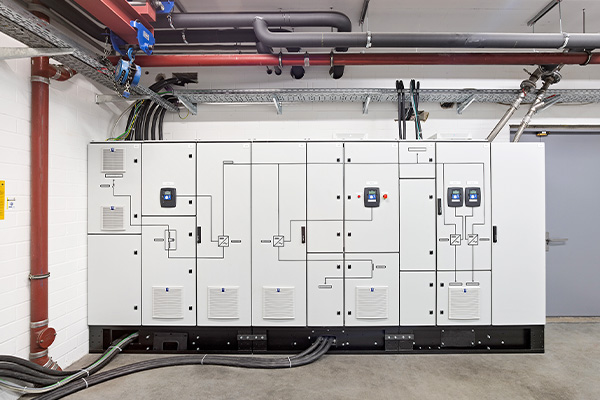 Inverter system for motor pulser and direct current (DC)
Detailed view of the converter system with supply and inverter.
Early cooperation and future-oriented applications yield a correct setup
Effective cooling is a must when testing at high speeds and power. The e-machines as well as the test objects must be cooled properly, however conventional cooling solutions cannot manage the heat of electric motors operating at maximum power. ATESTEO recognized this problem early on, and secured five new high-performance machines for Hall 3 from a supplier in Munich. These machines provide an innovative cooling solution which enables the machines to be cooled directly, keeping heat under control, even while operating at maximum power.
"Drive system development is moving away from the internal combustion engine in the medium term. For many years now, we have been offering the automotive industry and today's mobility industry a wide range of e-mobility testing services for electric and hybrid vehicles. To fully exploit the performance potential of electric motors, we have now invested in updating our Hall 3 to the highest speeds. We are setting new standards and are the first to make e-mobility testing with 500 kW at 25,000 rpm possible. We are ready for the next level of e-mobility testing."
Tim Willers, CEO/COO
Always innovative test benches for electric and hybrid drive units
Hall 3 was completely modernized to provide maximum power for testing e-drives and e-motors. The renovation cost approximately 3.5 million euros, once again confirming ATESTEO's leading position as the Number One drivetrain testing specialist. The transformer station is already running; all five transformers are operational. The converter system is operating in test mode. Commissioning of the test cells is scheduled for February 2023. And the demand is high. ATESTEO already has many requests for the new high-performance tests from customers, manufacturers, and developers.
Setup for placing the new converter system into initial operation via a "back-to-back" machine connection.
Coolant can be supplied to each test bench with temperatures down to 10 °C, thanks to the renovated cooling system in Hall 3. Two powerful cooling units now reside directly on the roof of the hall, and are connected to the water cooling system ensuring operational safety and a trouble-free continuous operation of high-performance tests.
"Making available a complete transformer station directly in the testing area was a totally new idea. We implemented it. It was not an easy task at a time when the entire world was affected by delayed supply chains and massive resource bottlenecks. However, we managed it on account of all departments and crews working together perfectly. And our suppliers did everything in their power to deliver the needed components. When we start up operation in February 2023, we will offer the automotive industry the first and only high-performance testing opportunity for speeds up to 25,000 rpm and dynamic torque values up to 800 Nm on the test bench for electric drive units for sports cars."
Dipl.-Ing. Ziya Odabasi, Project Manager of the modernization in Hall 3
Key data of our modern test benches in Hall 3:
1x inverter (for high speeds up to 25,000 rpm)
Output voltage: 0–460V
Output current: max. 1,700A @ 12 kHz
1x prime mover
Max. 25,000 rpm (200 Nm)
Max. 800 Nm
2x inverter (wheeled machines)
Output voltage: 0–460V
Output current: max. 730A
2x output machines
Max. 3,007 rpm (700 Nm)
Max. 3,070 Nm
1x DC inverter
Output voltage: 40–1,000V
Output current: max. 1,000A
Coolant: min. 10°C at the object under test.
About the Author: ATESTEO