Torque measuring system DST series
The torque measuring system of the DST-series are extremely compact torquemeters. They extend the ATESTEO product offering with robust and precise measuring systems for a wide range of applications in the manufacturing industry. The shaft-based torquemeter DST-series uses the well-established infrared telemetry for data transmission. The torquemeters are completely immune against electromagnetic disturbances in their optical data transmission and do not radiate any electromagnetic waves. The measuring body, mounted on a single side, allows higher accuracy when measuring on the output side.
Our torque measuring systems of the DST series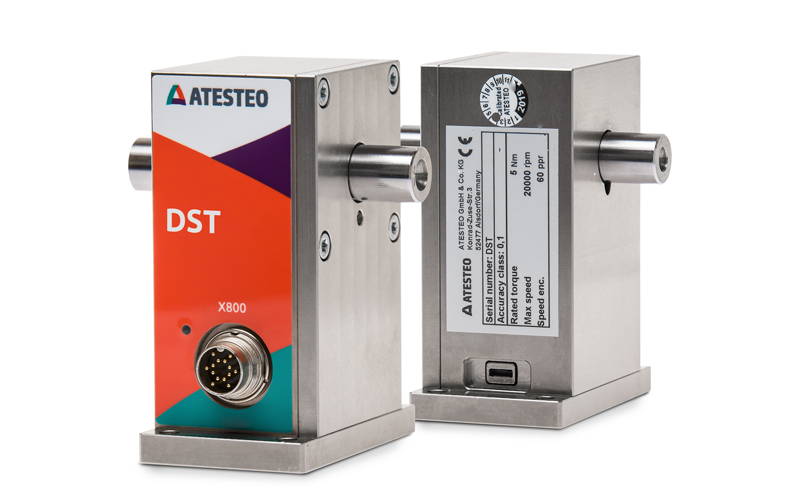 Compact design
Measuring ranges from 5 to 20 Nm
Standard measuring accuracy 0.1 %
Active temperature compensation
Standard integrated speed measurement with 60 pulses/revolution
Speed stability up to 20,000 rpm
Measuring system mounted on one side for higher accuracy on the output side
Flexible rubber or metal bellows couplings optional
Frequency and voltage output
Your desired product is not listed or you need specific requirements for your product? Then send us an e-mail. We will be happy to advise you.
We are looking forward to your message!
By submitting this form or writing us an electronic mail message, you are transmitting personal data. We use these data exclusively to fulfil your wishes and requirements; in particular, to answer your inquiry. Your details, including the contact data you have provided there, may be stored by us for the purpose of processing your inquiry and in the event of follow-up questions. The basis of law for this is Article 6 Section 1 Letter b of the DSGVO (Datenschutzgrundverordnung, English: General Data Protection Regulation [GDPR]) (pre-contractual measures and performance of the contract). Your personal data will not be forwarded, sold, or otherwise transferred to third parties unless you have previously expressly consented to the transfer of your data. The basis of law for this is Article 6 Section 1 Letter b of the GDPR (performance of the contract) and Article 6 Section 1 Letter a of the GDPR (consent). Please note that data transfer in the Internet (for example, during communication by electronic mail) is subject to security breaches. It is not possible to completely protect the data against access by third parties.
All downloads of the DST series
All CAD data via Traceparts