Prototype construction in the transmission development
Your advantages of the ATESTEO prototype workshop services:
Failure analysis of the component, with photographic documentation
Further development and improvement of the prototype
Prototype workshop and installation
Reverse engineering
Benchmarking
Prototype workshop concerns designing, constructing, and testing prototypes. Even in today's digital age, prototype workshop during the development of the transmission and vehicle is indispensable in order to investigate and optimise components at an early stage. In the field of prototype workshop, ATESTEO offers automobile manufacturers and automotive suppliers the complete range of services, from testing, optimisation, and installation to the development and construction of new prototypes. The prototype-related services of ATESTEO also include reverse engineering with benchmarking.
Our services in prototype workshop
Precision, experience, and expertise are the values that underlie prototype workshop at ATESTEO. Among other things, about 15 prototypes are constructed annually and many more tested or optimised at ATESTEO. In multidisciplinary teams, but always with close cooperation with the subject matter experts from the drivetrain testing, testing equipment, construction, and engineering services departments, the experts in the ATESTEO prototype workshop department work on reliable, highly accurate, and high-quality prototypes. Everything is quickly available to customers — from a single service all the way to a complete solution — in various service packages.
Our service packages in prototype construction at a glance:
Service package 1: prototype workshop
Service package 2: prototype workshop with design
Service package 3: prototype workshop with design including analysis
You have questions about prototype construction at ATESTEO and would like to learn more about our services? Our experts are there to advise you.
We are looking forward to your message!
By submitting this form or writing us an electronic mail message, you are transmitting personal data. We use these data exclusively to fulfil your wishes and requirements; in particular, to answer your inquiry. Your details, including the contact data you have provided there, may be stored by us for the purpose of processing your inquiry and in the event of follow-up questions. The basis of law for this is Article 6 Section 1 Letter b of the DSGVO (Datenschutzgrundverordnung, English: General Data Protection Regulation [GDPR]) (pre-contractual measures and performance of the contract). Your personal data will not be forwarded, sold, or otherwise transferred to third parties unless you have previously expressly consented to the transfer of your data. The basis of law for this is Article 6 Section 1 Letter b of the GDPR (performance of the contract) and Article 6 Section 1 Letter a of the GDPR (consent). Please note that data transfer in the Internet (for example, during communication by electronic mail) is subject to security breaches. It is not possible to completely protect the data against access by third parties.
Service package 1: Prototype workshop
Installation, assembly, disassembly, and repair
Components
Adaption transmissions
Special designs and special constructions
Bearing Tower
Transmissions with high rotational speeds
Apraisal
Individual parts and components
Entire transmissions and gearboxes
Damage to ball bearings
Research
Creation of photographic documentation
Failure and damage analysis
Support of customer´s prototype phase
Conducting crack measurements
Fluorescent
Standard check
Other services
Investigations of tooth patterns, contact patterns, and load carrying patterns
Hardness measurements of surfaces
Contour measurements
Roughness measurements
3D measurement arm
Modification, disassembling, preparation of components for presentation
Fitting and mounting of special measurement technology and sensors for data acquisition
Service package 2: Prototype workshop with design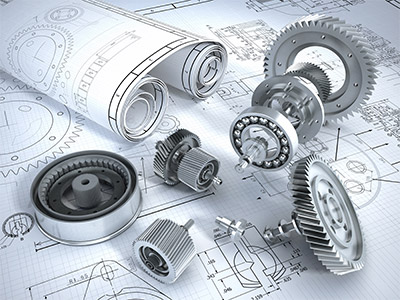 Services for testing transmissions on the ATESTEO test bench:
Construction and development of the adaptation transmission
Adaptation of the transmission to the requirements of the test bench such as, for example, flange profile, turndirection of gearbox (speed-adapting gearbox), and more
Reverse Engineering
Reverse Engineering during ATESTEO prototype workshop
During reverse engineering, external components are translated into design drawings. Even if there is no CAD description available for the component, individual designs can be reconstructed in this manner. That means that missing or lost construction data can be recovered or re-established under certain circumstances.
Service package 3: Prototype workshop with design including analysis
Design, implementation, verification, and improvement of the prototype in cooperation with the customer:
Further development and improvement of the customer's transmission or gearbox
Feasibility studies on developments and various designs
Additional services at the ATESTEO gear and transmission laboratory
Workshop and laboratory
Rental to customers of the workbench, areas of the workshop, and tools in the ATESTEO transmission and gearbox laboratory
Use of the facilities and instruments to develop one's own prototypes
High standards of safety and confidentiality
Access to experts from the ATESTEO prototype workshop department
Calibration of torque wrenches (torque spanners)
Issuance of factory calibration certificates