Test bench measurement equipment from ATESTEO
ATESTEO offers not only drivetrain testing in test benches, but also the required testing, measuring, and sensing technology for measuring, testing, and analysing complete drivetrains and their components. The discipline of test technology for test benches fundamentally concerns the development and production of high-resolution torque and torque measurement systems to capture stationary and highly dynamic processes.
The products, solutions, and services of our testing equipment with torque sensors, vehicle equipment, and actuators support your vehicle testing and transmission development. They were created for engineers by engineers. All testing and measurement systems from ATESTEO are developed at the highest technical level. Our testing equipment works with state-of-the-art automation technology, maximum precision, situational awareness, and open interfaces.
Innovative testing equipment from ATESTEO
For your development and vehicle testing needs, ATESTEO offers you both standard components and tailor-made ones in a wide range of products for testing technology:
Torque sensors from 1 Nm to 500 kNm
DAkkS and factory calibration
Telemetry systems for contactless energy and data transmission
Outfitting transmissions, drivetrains and vehicles with measurement technology for:

torque
rotational speed
acceleration
temperature
pressure
power

Analysis systems for manual transmissions and clutch control
Machines for choosing gears, clutch control, and more
Custom-tailored measurement equipment
Test technology for custom tasks
By closely working together with test bench engineers, we are able to create measurement systems that meet your needs and test these systems as early as the development phase under test bench conditions. With the achieved product extensions and product improvements, additional aims were able to be met relative to changing environmental and component pressures and which are called for to support reliable handling in operation.
With over 30 years of experience and deep expertise, we develop custom-tailored test and measurement technology for testing your vehicles. That means that with measurement technology from ATESTEO, you receive solutions precisely tailored to your needs and measurement, testing, and analytic challenges.
Custom measurement technology solutions
Our holistic approach at ATESTEO results in measurement technology solutions that are used both at ATESTEO test benches and directly at OEMs (original equipment manufacturers) in the automotive industry. Our complete range of measurement technology solutions, consisting of torque measurement systems, vehicle equipment, and actuators, can be tied to state-of-the-art automation technology.
Whether standardised or tailored to your needs — with a wide range of technical products, our measurement technology solutions offer you optimum torque measurement technology and high-end instruments:
Customer-specific measurement technology
ATESTEO's electronic development department, integrated in the area of customer-specific measurement technology, has extensive expertise in the further development and new development of electronic measurement systems.
Measuring amplifier for DMS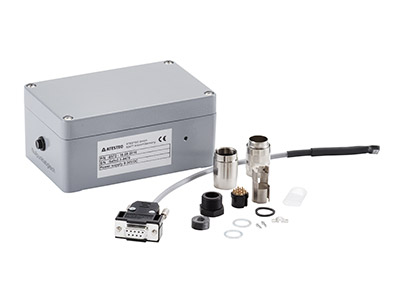 The ATESTEO strain gauge amplifier system processes the signals from sensors supplied on strain gauge basis in a bridge circuit. For this purpose, the SAFO provides a reference voltage to supply the bridge and converts the incoming differential voltage into a frequency in the range of 60 kHz + 20 kHz. With the SAFO 1.3 a temperature compensation curve for the internal electronics is recorded ex works and stored in an EEProm. The user can switch the temperature compensation on or off as desired.
SAFO 1.3 – Features
Torque-proportional frequency output [Hz] of 60 kHz + 20 kHz
Gain adjustable by DIL-switch in the range 1-10.000
Automatic zero point adjustment (16 bit resolution) at the touch of a button or via serial interface
Serial interface with terminal function
Calibration jump
Measurement and display of the electronics temperature in the range 0 °C-125 °C (0.5 °C resolution) with measuring point compensation option
Resettable operating hours counter
Optional external temperature measurement via thermocouple with measuring point compensation option
Optional switchable input from voltage +10 V/+5 V to strain gauge amplifier
Optional single-line 7-digit display
SAFO 2.3 – Features
Strain gauge amplifier with frequency output [Hz] in the range 60 kHz + 20 kHz
Galvanically isolated analogue output + 10V and + 20 mA and 4-20 mA
Gain adjustable via serial interface in the range 0.3077mV/V and 14.2857mV/V.
Automatic zero point adjustment at the push of a button or via serial interface
Serial interface with terminal function
Measurement and display of the electronics temperature in the range 0°C-125°C (0.5°C resolution). (maximum operating temperature of the electronics: 70°C)
Resettable operating hours counter
Optional CAN-Bus interface
Vibration monitoring systems
Structure-borne sound monitoring systems are used to monitor sensitive drive components. These systems are equipped with a robust piezoelectric sensor as vibration transducer. The sensor is mounted directly on the critical bearing points of blowers, pumps and other drive components. Bearing damage is indicated by increased noise emissions.
The structure-borne noise monitoring system measures the structure-borne noise emissions occurring during operation with the help of the internally or externally mounted sensor and can thus detect changes. If a freely adjustable threshold value is exceeded, a switching output is set, which is reset once the value falls below the threshold. Usually this output is used to issue a warning. Further outputs can be used to switch off and lock the monitored machine.
Further product developments
Gearbox controls (drivers for solenoid valves and sensors)
DMS application service
Calibration of torque transducers
Development of special measuring technology