Service and support for your measuring tasks.
In addition to all the services of Drivetrain Testing and sophisticated measurement technology, ATESTEO also offers you professional support in the functional development of your gearboxes. In our in-house calibration laboratory we calibrate your torque sensors and shorten your lead times. And if you want to carry out your testing at your company, you can also purchase our test benches, actuators and measuring systems. With our services, all the possibilities for Drivetrain Testing are available to you, either externally or at your company. For the special requirements of your drivetrains in Drivetrain Testing, we design innovative measurement technology that sets new standards in testing in many cases. In our DIN EN ISO 9001 certified mechanical production facility, we can produce components for test rig construction, prototypes and measuring equipment in accordance with your requirements, quickly and flexibly. Due to the possibility of CN machining, we can also produce small series. Whether with individual services or complete solutions – we accompany you during the entire development phase with a lot of experience and know-how.
Always at your side.
ATESTEO provides you with high-quality, individual measurement technology for testing your drive trains on the test bench and in road trials. And we are also your partner when it comes to adjustment, maintenance, repair and commissioning of the measurement technology. With comprehensive service and support our experts are reliably and competently at your side to help you realise your measuring tasks.
Mechanical production for individual testing tasks
Our services and expertise in mechanical manufacturing:
CNC milling on 3- to 5-axis CNC machining centres
CNC turning on CNC machining centres
Surface and cylindrical grinding on CNC machining centres
Extensive experience in measurement technology and prototype construction
Comprehensive advice on design and material selection
With our efficient mechanical production we can implement your specific tasks for component testing quickly, flexibly and independently. Here, we promptly implement measuring equipment, components for test bench construction and prototypes for your requirements.
Mechanical Manufacturing is a DIN EN ISO 9001 certified division of ATESTEO with a focus on CNC machining – from prototype production to small series. In our Mechanical Manufacturing Department we offer you the shortest delivery times and maximum flexibility with the help of a large warehouse and a variety of immediately available materials. Many customers from the automotive industry and classical mechanical engineering trust our competence in mechanical manufacturing. Thanks to our modern and extensive machine park, our efficient and highly qualified employees and our reliable partners in the fields of heat and surface treatment, we offer the highest quality and flexibility as well as complete production from one source. We would be pleased to support and accompany you in our field of mechanical manufacturing right from the design stage through the entire process.
CNC-Milling
CNC milling is a versatile production process that enables us to machine a wide range of materials with the highest precision. With our modern and efficient machinery, as well as tools of the latest generation, we are able to handle even complex tasks from prototypes to small series. By using our CAD/CAM software, we are also able to process all common data formats of our customers and thus integrate them into the production process.
5-axis CNC milling machines
DMG Mori DMU 75 Monoblock
Hedelius RS 80 S
Hedelius RS 60 K
Hedelius RS 80 K (component sizes up to 800 x 800 x 500)
4-axis CNC milling machines
Hermle U 1000 A (component sizes up to 1000 x 600 x 500)
3-axis CNC milling machines
Hermle U 630 T
MIKRON UME 600
MIKRON WF 51 D (component sizes up to 600 x 600 x 450)
CAD CAM software
EdgeCam milling with direct interfaces for the most common 2D and 3D CAD systems
CNC-Turning
The production process we use for rotationally symmetrical components is CNC turning. From plastics, non-ferrous metals and steels to hard machining, high-precision production of almost any geometry is possible. By using modern and efficient machines, we can offer fine machining, but also heavy-duty machining for cost-effective production of prototypes up to small series.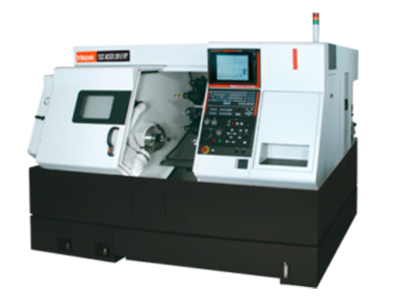 CNC lathes
MAZAK Quickturn 10 with bar loading magazine up to 40mm diameter
MAZAK Quickturn Nexus 250
MAZAK Quickturn Nexus 350-II
Cycle-controlled universal lathes
Boehringer VDF DUS 560 ti
Weiler E50 (component sizes up to diameter 350 at 2000mm length)
Turning machines
Weiler DA 210/1000
Boehringer VDF DUE 560
GDW LZ 360 S
Grinding
Grinding is a production process for manufacturing components with special requirements. Our grinding machines make it possible to achieve dimensional tolerances and surface finishes that can no longer be achieved with turning and milling processes. In order to be able to provide exact proof, we use appropriate measuring equipment. Our wealth of experience ranges from soft materials to hardness grades of 65 HRC.
CNC cylindrical grinding machine
Studer S 31 (External grinding also under angles. Component sizes up to diameter 250 at 600mm length)
Surface grinding machines
Elb
de gen (component sizes up to 250 x 300 x 250)
Other services in mechanical manufacturing
In addition to the various machining processes, we also offer other services such as slot grooving, various welding and soldering processes as well as assembly or repair work. Our services cover the entire spectrum of classical mechanical engineering. We would be pleased to support and advise you in our mechanical manufacturing area, also in questions of design or material selection.
Automatic band saw
KASTOtwin AE 4 (component sizes up to diameter 400)
Grooving machine
Ravensburger (grooves up to 20mm and 150mm height with multiple grooves)
Bench drill
Float TB 13 ST electronic
CNC cylindrical grinding machine
Alzmetall AB 35 S
Welding equipment
250A direct and alternating current TIG, as well as MIG/MAG, electric and autogenous
Calibration laboratory for torque sensors
As a manufacturer and user of torque measurement technology, we also offer the calibration of torque sensors as a service. In our in-house, DAkks-certified calibration laboratory, we calibrate the torque sensors to the highest accuracy of the torque, taking hysteresis effects into account. Switching robots are also set up in the ATESTEO calibration laboratory. With our calibration devices we cover the range from 10 N-m to 70,000 N-m. Factory calibrations and calibrations according to DIN 51309 from 10 to 20 kN-m are possible. From 20 kN-m to 70 kN-m we can offer factory calibrations. We are also able to calibrate many special applications. Calibration adapters are manufactured in-house, so you can count on short lead times.
Further services at ATESTEO
Inspection service
Within the ATESTEO inspection service we inspect and check all relevant parameters and devices for you as required or at agreed regular service intervals. We carry out the following inspections for you:
climatic test: General check of the functionality of the measurement technology in the temperature working range intended for the measurement technology
temperature behaviour: Checking and optimisation of the torque behaviour with temperature change
Specification of our climate chamber:

Temperature range: -40 °C to 190 °C
Humidity in the range from 10 °C to 95 °C: 10 % to 98

Speed behaviour: Checking and optimisation of the torque behaviour over speed
General inspection of the measuring accuracy and the signal and transmission quality of the individual torque sensors
General inspection and function control of the actuators GSE and GSA
Repair service
Even in case of an emergency ATESTEO is there for you quickly, competently and reliably. Our technicians will advise you in advance by telephone about your repair job and rule out that it might be just an operating error or a connection error. If a repair is necessary, our experts will take care of restoring your unit. This even applies to measuring systems more than ten years old. These are also optimally repaired by us. Thanks to ATESTEO's high level of expertise in the development of innovative measuring technology, we have the necessary experience to solve even complicated cases for you.
On-site commissioning
In consultation with you, we offer both commissioning and on-site service. The commissioning of a new product includes the mechanical and electrical installation, provided that the agreed basic conditions have been created by you in advance. The service on site includes an inspection and troubleshooting. In many cases, however, it is easier and cheaper to dismantle the measuring equipment and send it to ATESTEO. Because not every error can be eliminated on site. That is why our service is always preceded by a detailed discussion with you to determine the best and most effective way of providing the service.