Quality and sustainability in drivetrain testing
The quality concept of ATESTEO
High technological competence and expertise
Decades of experience in drivetrain testing
Highly qualified employees
Sustainable operations
Extensive quality management
DAkkS-accredited
TÜV-certified
The quality of all our services is the basis of everything we do. This notion of quality can be found throughout our entire organisation. It is not only integrated into all our business processes, but is an essential part of our corporate culture. Reaching and keeping the fullest satisfaction of our customers, employees, shareholders, and partners is one of our key business goals. Continuous improvement, lowering process and defect costs, and competent, motivated staff members are all part of a permanent optimisation process that guarantees constant further development and advancement along with reflecting the dynamism of ATESTEO.
This stands for our quality in drivetrain testing
At ATESTEO, quality means maximum performance in all areas. That begins with the expertise of our staff members concerning high-end test benches and state-of-the-art technology and extends to time-optimised and efficient processes and procedures. On state-of-the-art test benches, which can be adapted to a wide variety of customer requirements, our specialists test all commonplace drivetrains. They personally support our customers throughout the entire project. With great engineering competence and vast technical knowledge, they intimately understand the situation and work assignment of the customer, develop needs-oriented testing solutions, and lead to reliable results. Whether automated, standardised, or customised testing, through the high test bench capacities, we are able to reach rapidly to custom requirements. Consulting, set-up, testing, and reporting at ATESTEO also conform to tight timescales — because for our customers, we always do everything possible.
Sustainability in drivetrain testing to protect our environment.
In addition to the high quality requirements, protecting the environment is among the central corporate goals of ATESTEO. Because we are a drivetrain testing specialist for the automotive industry, environmental sustainability, safety, economic efficiency, and the comfort of new vehicles are paramount to our work.
ATESTEO supports these goals on the one hand through working responsibly and environmentally consciously, and on the other, through producing future-oriented concepts and technologies for test benches, measurement technology, and vehicle powertrains. Sustainability demands the efficient, intelligent, and responsible use of all resources. It is therefore inseparably connected to technological competence and the ability to predict future developments.
Sustainability requires goals, perspectives, and motivation. We make an important contribution to sustainability through continuously improving our quality and environmental management systems.
Do you have questions about quality and sustainability at ATESTEO? We are looking forward to your message.
We are looking forward to your message!
By sending this form, you are transmitting personal data to us. We use this data exclusively to fulfil your wishes and requirements, in particular to answer your enquiry. Your information, including the contact details you provide there, may be stored by us for the purpose of processing the enquiry and in the event of follow-up questions. The legal basis is Art. 6 para. 1 letter b DSGVO (pre-contractual measures and fulfilment of contract). Your personal data will not be passed on, sold or otherwise transferred to third parties unless you have expressly consented to the transfer of your data beforehand. The legal basis is Art. 6 para. 1 letter b DSGVO (fulfilment of contract) or Art. 6 para. 1 letter a DSGVO (consent). Please note that data transmission on the internet (e.g. communication by e-mail) can have security gaps. Complete protection of data against access by third parties is not possible.
Certified quality — sustainable and environmentally responsible behaviour
Our locations are certified and accredited according to the following standards:
Quality management according to ISO 9001:2015
Environmental management system according to ISO 14001:2015
Information security management system according to ISO/IEC 27001:2013
Accreditation of the testing laboratory according to DIN EN ISO/IEC 17025:2018
Accreditation of the calibration laboratory according to DIN EN ISO/IEC 17025:2018
Our certifications
Certified according to DIN EN ISO 9001 & 14001 by the TÜV Rheinland Group.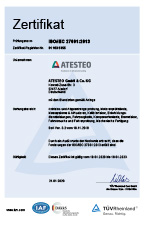 Certified according to DIN ISO/IEC 27001 by the TÜV Rheinland Group.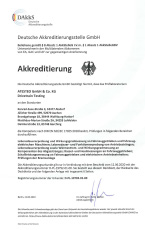 Authorized as calibration laboratory by the DAkkS.
Authorized as testing laboratory by the DAkkS.