Powertrain testing on the test bench
ATESTEO test benches for drivetrains and powertrains are designed to test transmissions as a subassembly, as part of the drivetrain, or as part of the entire vehicle. ATESTEO conducts functional and endurance tests of transmissions and drivetrains on more than 150 test benches adapted to customer specifications. At the test benches, the drive is supplied by combustion engines or electric motors; the latter permits simulating battery systems. All our test benches are set up for tests on passenger cars or commercial vehicles. The testing laboratory is accredited in accordance with DIN EN ISO/IEC17025:2005 by the German Accreditation Body (Deutsche Akkreditierungsstelle, DAkkS). This also officially certifies ATESTEO's technical competence in drivetrain and transmission testing.
Our test benches overview
Our service range for drivetrain test benches is continuously adapted to the new demands of the market and takes into account the growing demand for testing electric and hybrid drives. Your components can thus be tested at our test benches during very early project phases. This supports or objectifies your decisions for specific technologies at the right point in time. The drivetrain test benches are fitted out with equipment ranging from a single electric motor to five electric motors as well as set-ups for special applications.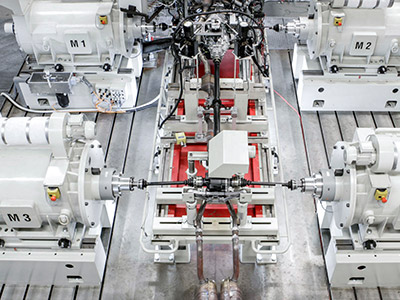 Drivetrain test benches with combustion motors
Drivetrain test benches with electric motor drives
Drivetrain test benches with electric drive systems including the use of original vehicle batteries
Drivetrain test benches for hybrid drive systems
Drivetrain test benches for hybrid drive systems including the use of original vehicle batteries
HiL test benches for NVH and endurance testing
Acoustics test benches for the drivetrain (NVH, acoustics dynamometer)
Test bench for transmission rattling
Test benches for rail vehicles, utility vehicles, off-road vehicles – Environmental simulation test bench
Equipment and test range of our test benches
Test bench equipment
Operations 24 hours a day, 365 days a year
Automation and control system developed in house
System for the early detection of damage
Dynamic simulation of rolling resistance
Block programme tests
Retracing of vehicle measurement data in real time
Entry of data on a road or a stretch of road
Rest bus simulation
High-voltage DC current supply (battery simulation)
Integration of the original vehicle battery
High-voltage DC current supply
Electric load motor
Measurement of temperature, volume flow, and pressure
Axle coupling
Axle blocking mechanism
High-frequency measurement of DC voltage, DC current, AC phase voltage, and AC phase currents
Measurement of rotational speed, torque, and rotor angle
Speed control
Coolant conditioning
Vibration-free fixture (clamping device)
Temperature test chamber
Test range of the test benches
Transmissions and drivetrains
FWD, RWD, AWD, transaxle systems
M/T, A/T, AMT, DCT, CVT
PTU, transfer drive, front/rear axle differential
Transmissions with auxiliary units
Hybrid systems • Hot/cold endurance tests
Efficiency measurements
Noise, vibration, harshness (NVH) analysis
Long-term service life and shifting quality of synchronisation, shifting quality analysis
Deformation analysis
You would like to test transmissions and drivetrains according to your special requirements on our test benches?
Our experts are available to answer your questions.
We are looking forward to your message!
By submitting this form or writing us an electronic mail message, you are transmitting personal data. We use these data exclusively to fulfil your wishes and requirements; in particular, to answer your inquiry. Your details, including the contact data you have provided there, may be stored by us for the purpose of processing your inquiry and in the event of follow-up questions. The basis of law for this is Article 6 Section 1 Letter b of the DSGVO (Datenschutzgrundverordnung, English: General Data Protection Regulation [GDPR]) (pre-contractual measures and performance of the contract). Your personal data will not be forwarded, sold, or otherwise transferred to third parties unless you have previously expressly consented to the transfer of your data. The basis of law for this is Article 6 Section 1 Letter b of the GDPR (performance of the contract) and Article 6 Section 1 Letter a of the GDPR (consent). Please note that data transfer in the Internet (for example, during communication by electronic mail) is subject to security breaches. It is not possible to completely protect the data against access by third parties.
Powertrain test benches with combustion engines
Time is money, and it's important to save both when developing drivetrains. Testing early so that the transmission can be optimised in its fuel consumption and carbon dioxide (CO2) emissions is a key factor when engineering efficient technologies. The drivetrain test benches at ATESTEO do not require either a complete drivetrain or a finished prototype. You can test the properties and performance of your technologies or components at our drivetrain test benches during the development phase.
Testing the entire system at powertrain test benches
To test the entire system, even without a prototype, ATESTEO makes available modern, multifunctional drivetrain test benches on which various powertrain configurations can be tested with only one set-up at the test bench. Your manual, automatic, and double-clutch transmissions, along with continuously variable transmissions and hybrid drivetrain technologies, can also be tested. The drivetrain is tested under realistic conditions as driven by combustion engines. You can decide whether the tests are performed in a quasi-stationary or dynamic fashion.
Modelling the vehicle at powertrain test benches
The ability to install an entire vehicle makes it possible for automatic transmissions to be calibrated for the testing of safety-related functions already on the drivetrain test bench before engaging in road tests. It is possible to replicate on the test bench original measurement data from the vehicle, to model geographic data from your test tracks, or to perform a block profile. Hybrid and electric vehicle applications are supplied with direct current during operation.
Combustion engine options for drivetrain test benches
Combustion engine options for drivetrain test benches
CE electric engine test bench
CE two-drive electric engine test bench
CE three-drive electric engine test bench
CE four-drive electric engine test bench
Powertrain test benches with electric and hybrid drive
When combustion engines are developed at the same time as the transmission owing to ever shorter development timeframes, our test benches assist you to test the transmission during an early stage, even without a completed engine. This delivers you valuable performance data and reduces the costs of prototypes.
Transmission tests at test benches for many needs
Test individual elements or your complete drivetrain without a combustion engine at the electric motor test benches at ATESTEO. At installed engine power values between 320 kW and 2,700 kW, drivetrain tests for smaller passenger cars, heavy construction vehicles, and high-speed trains are possible. As the leading drivetrain testing specialist, we have the goal of conducting testing on all types of drivetrains. Our test benches are thus so flexibly laid out that we can carry out every sort of test. Whether you need an endurance test of a newly developed PTU (power take-off unit) in connection with a manual transmission, or the efficiency of axle drives is to be measured, ATESTEO provides the solution for every one of your testing challenges.
Our electric motor test benches may be employed flexibly at installed engine power values between 320 kW and 2,700 kW for testing vehicle drive systems. Possibilities range from transmission tests for smaller cars to heavy construction vehicles and even high-speed trains. The tests can take place in a quasi-stationary or dynamic fashion. It is even possible to replicate on the test bench original measurement data from the vehicle, to model geographic data from your test tracks, or to perform a block profile. Individual elements of your drivetrain as well as the entire drivetrain without combustion engine can be tested on our test benches. Hybrid and electric vehicle applications are supplied with direct current during operation.
Electric motor options at the drivetrain test bench
The various test bench combinations are offered in connection with various electric motors:
Electric motor test bench
EM one electric motor test bench
EM two electric motors test bench
EM three electric motors test bench
EM four electric motors test bench
Test benches for hybrid drives
For testing hybrid drives, ATESTEO offers state-of-the-art test benches that simulate the operation of the drivetrain in a realistic manner. Following the same principle as the test benches for drivetrain models with electric and combustion engines, complex tests to analyse the properties of transmissions and hybrid systems are carried out. So that you are able to develop all powertrain components of an electric or hybrid vehicle in parallel, ATESTEO provides you prompt selective and realistic testing of your auxiliary electric components. This testing enables us to verify that the products work flawlessly before being assembled, and also provides you with the opportunity of optimising components during the development stage.
E-mobility testing on the test bench
Learn more about the testing of electric and hybrid drives on pur powertrain test benches.
HiL test benches – Testing with regard to NVH and service life
On our ATESTEO HiL test benches we examine vehicle components under real operating conditions for example vibration dampers, transmissions and transfer cases. The requirements for commercial vehicles are subject to constant change. In addition to durability, comfort is of decisive importance. The NVH behaviour is particularly decisive in this respect. Corresponding optimizations lead to a lower vibration load on the driver. The drive train is a significant source of vibration and noise.
In order to test and tune new components, validation is becoming increasingly important. Due to the development of new types of vehicle drives and an increasing proportion of mechatronic systems, the requirements placed on individual components are becoming more and more complex and the tests more and more extensive.
The HiL test bench makes it possible to transfer the system behavior of the drivetrain to the components. For this purpose, a test bench model exists which is coupled with a vehicle simulation model. The simulated interactions are transferred from highly dynamic electric machines to the test object.
Our services at the HiL test bench at a glance:
Verification and validation of complex systems and components
Analysis of NVH behaviour
Analysis of dynamic behaviour
Investigations with respect to service life
Acoustic test benches for the drivetrain
The shorter the development times, the more important parallel testing of the elements of your drivetrain becomes. You can achieve a significant time saving by developing and optimising vehicle part systems at special acoustic test benches. Formerly, tuning these systems to specific needs could be begun only once vehicle prototypes were available. At ATESTEO acoustic test benches, substantial optimisation of vibrations of the entire drivetrain can start much earlier. This enables you to reduce costs considerably by reducing the number of your vehicle prototypes.
Drive variants for acoustic test benches:
MT (Manual Transmission)
AT (Automatic Transmission)
DCT (Dual-Clutch Transmission)
HEV (Hybrid Electric Vehicle)
PHEV (Plug-in Hybrid Electric Vehicle)
BEV (Battery Electric Vehicle)
Transmission rattle test bench
With its transmission noise test bench, ATESTEO offers you a possibility, certified in accordance with ISO 3745 class 1, to investigate a great variety of transmission noises, separate from the remaining drivetrain. With transmission whine, which is caused by the teeth meshing, up 6000 rpm and 490 Nm can be measured on the primary shaft. To measure gear rattle that is generated by the loose parts stochastically knocking against one another, the drive motor is able to simulate the torsional oscillation of a combustion engine.
With a high level of expertise and specially-adapted measurement and testing technology, we also support you in developing torsional vibration dampers such as friction washer dampers, dual-mass flywheels, and converter clutches with torsional vibrations damper for a passenger car drivetrain.
Key figures of our transmission rattle test bench:
Certified in accordance with ISO 3745 Class 1
Cut-off frequency = 250 Hz
Disturbing noise level inside test cell = 45 dB(A)
Disturbing noise level outside test cell = 80 dB(A)
NVH-Component test benches
The NVH test benches feature a modern, high-tech layout. The input drive is, for example, performed by a hollow shaft, which enables testing state-of-the-art coaxial transmissions. To avoid influences of the swiftly rotating input motor on measurements, the input motor is decoupled from the rest of the test bench by pneumatic springs. Likewise, the corresponding swiftly rotating drive shafts are supplied with a balance quality of 2.5G.
Technical data of the NVH test benches:
NVH cell data
Class 1 NVH cell in accordance with ISO 3745
Sizes of test objects up to 500 mm x 800 mm
Frequency range: 150–16,000 Hz
Background noise: <35 dB(A)
Technical data of the input machine with hollow shaft
Torque: 575 Nm
Rotation: 20,000 rpm
Acceleration: 4,000 rad/s2
Simulation possibilities
of pulsation of the engine torque (ETPS drive)
of the drivetrain and its components
of the vehicle battery
HIL testing with additional permanent magnet (PM) motor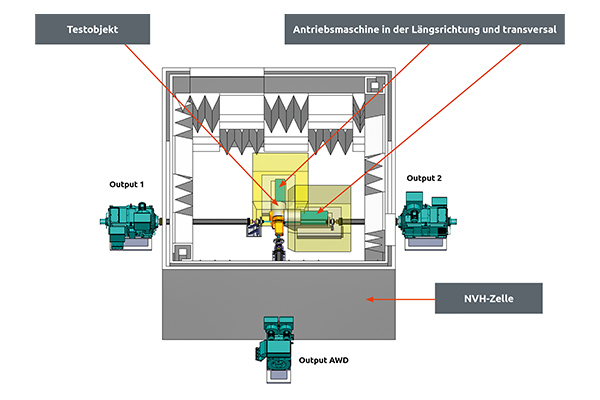 Acoustics roller test bench
The acoustic roller test bench at ATESTEO is used to test individual units such as transmissions or axle drives for noise and vibration in the entire vehicle. It is also possible to measure interior noise in the vehicle and to record and evaluate airborne sound, structure-borne sound, rotational speed or clutch pedal travel.
Key figures of the acoustics roller test bench:
Measurement of all drivetrain variants
Suitable for all electrified drivetrain variants
Simulations of: Internal combustion engine, drivetrain and components and battery
Certification according to ISO 3745 class 1
Frequency range 150 – 16,000 Hz
Noise < 35 dB(A)
Key figures on the drive: nmax = 20,000 rpm, Tmax = 600 Nm, JRot = 0.064 kg/m2
Key figures for output drives: nmax = 8,000 rpm, Tmax = 4,000 Nm
Test benches for rail vehicles, commercial vehicles, and off-road applications
Commercial vehicles are an important part of modern transport systems, presenting unique challenges for the drive technology, vehicle, engine, and transmission. With a committed team of commercial vehicle specialists and extensive technical expertise, we are your strong partner when it comes to supporting special tests for rail vehicles, commercial vehicles, and off-road applications.
ATESTEO test bench applications beyond passenger cars:
Rail vehicles
Commercial vehicles
Off-road applications