THINK BIG: Drivetrain testing for large commercial vehicles at ATESTEO
Powerful 1,000 kW test bench enables the drivetrain testing of the electric axles of heavy-duty vehicles, trucks, lorries, motorbuses, tractors, and towing vehicles at an early point in time
Before a new drive system is placed in a vehicle, it is put through its paces in drivetrain testing. Drivetrain testing is a matter of routine for the drive systems of passenger vehicles, but of course it also has to take place during the development of commercial and heavy-duty vehicles. Testing the drivetrain at an early point in time on the test bench is essential for recognising and eliminating problems already in the development phase and for optimising the quality and functionality of components for the later mass-produced vehicle. Up to now, particularly for the latest developments in the area of electric commercial vehicles such as trucks, lorries, long-distance coaches, motorbuses, and tractors, there have hardly been any possibilities of testing the drivetrain because of a lack of required test benches. With its technical know-how and application competency in the field of drive systems, ATESTEO now makes possible testing large electric commercial vehicles on the test bench. Since mid-2021, the first test bench for electrically powered heavy-duty vehicles has been running at ATESTEO. And the demand from manufacturers is high.
One hundred square metres (100 m²) of area. Ten metres (10 m) wide. Two thousand kilowatts (2,000 kW) of electrical power. This is the new heavy-duty vehicle test bench at ATESTEO. It is made for large electric commercial vehicles and utility vehicles. It was developed using the experience of more than 15 years of testing electric vehicle components. It is equipped with torque sensors (transducers) and high-torque adapter transmissions developed in-house. It was set up with the application competency arising from thousands of testing projects for the international automobile industry. It is needed for the new era of e-mobility, which does not stop at the transmissions of commercial vehicles and heavy-duty vehicles.
"The demand for lower CO2 emissions and more environmental acceptability is driving the new development of transmissions in commercial vehicles. We wish to support manufacturers in accomplishing this through drivetrain testing of electric axles at an early point in time. For testing battery-driven transmissions of lorries, trucks, buses, and tractors, ATESTEO now offers new possibilities for e-mobility testing on the test bench. Our truck and lorry test bench covers all needs during the testing of transmissions and gearboxes of large commercial vehicles."
CEO Tim Willers summarised the expansion of the e-mobility testing offering to large commercial vehicles.
Endurance testing, NVH testing, environmental simulation, efficiency testing, functional testing, vehicle testing, brake testing, and hot gas testing are offered on the commercial vehicle test bench. If desired, road trials can be conducted on an in-house test track with any of the approximately 500 in-house straesser test drivers.
Large drivetrain test bench with powerful electric drive system
Testing large electric axles requires large test benches. With a total area of 100 m² and a testing chamber size of a length of ten metres and a width of seven metres, the new commercial vehicle test bench from ATESTEO is sized precisely to the dimensions of the specimens to be tested. The mechanics and electronics are adapted to the larger test specimens as regards torque and power.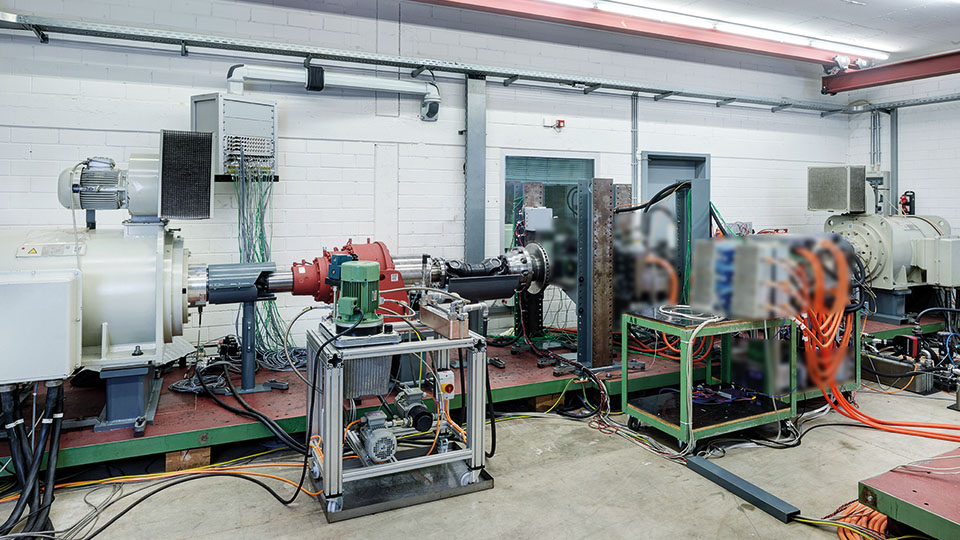 At the heart of the new test bench for large commercial vehicles are the two powerful test bench machines with a power rating of each 1,000 kW and own adaptation gear units (transmissions) with 25,000 Nm of torque. The large electric axle is clamped between the metal struts and tested. The test stand is symmetrically constructed for this purpose.
"With the powerful equipment of our test bench for testing the drives of electric commercial vehicles, we can cover a wide range of applications required by customers. Currently, we are testing the traction engine of a semi truck under development, whose overall performance far exceeds that of a conventional truck. We are pleased that we can also support manufacturers with our test benches in the development of exciting new electric drive systems of this dimension."
Robert Voigt, ATESTEO Testing Manager Alsdorf
The components of the heavy-duty vehicle test bench
Electric output maschine
Powerful asynchronous motor with 1 MW continous power for simulating driving resistances.
Adaptation gear unit
The specially developed adaptation gear unit enables a maximum wheel torque of 25,000 Nm on a continous basis.
D/C converter
Both battery simulators have the power of 1,000 kilowatts each and 1,100 amperes of current as well as voltage of 950 volts.
Electronics to measure power
For precise measurement of electric efficiency, modern power measuring systems are used.
High performance for large dimensions
With the new large, powerful drivetrain test bench from ATESTEO, electric drivetrains of all large commercial vehicles can be tested.
Electric drive systems of the following may be tested:
Trucks and lorries
Articulated lorries (semi-trailer trucks)
Tractor trucks and towing vehicles
Tankers
Excavators and backhoes
Mobile Cranes
Fire fighting vehicles
Terrain vehicles
Ambulances and emergency vehicles
Dump trucks
Street sweepers
Agricultural tractors
The heavy-duty vehicle test bench from ATESTEO is compatible with the ATESTEO Testing Cockpit. This effective digital live control and working instrument enables ATESTEO to provide manufacturers remote access to their tests from wherever the manufacturers are. With this test bench in a special power class, ATESTEO has closed a gap in the drivetrain testing of commercial and heavy-duty vehicles.
Technical data of the ATESTEO heavy-duty vehicle test bench:
Test bench machines
Power: 1,000 kW
Torque: 5,000 Nm
Speed: 4,000 min-1
Adaptation gear unit
Torque: 25,000 Nm
Speed: 900 min-1
D/C converter
Power: 1,000 KW
Current: 1,100 A
Voltage: 950 V
About the Author: ATESTEO