TÜV Rheinland certifies information security management system from ATESTEO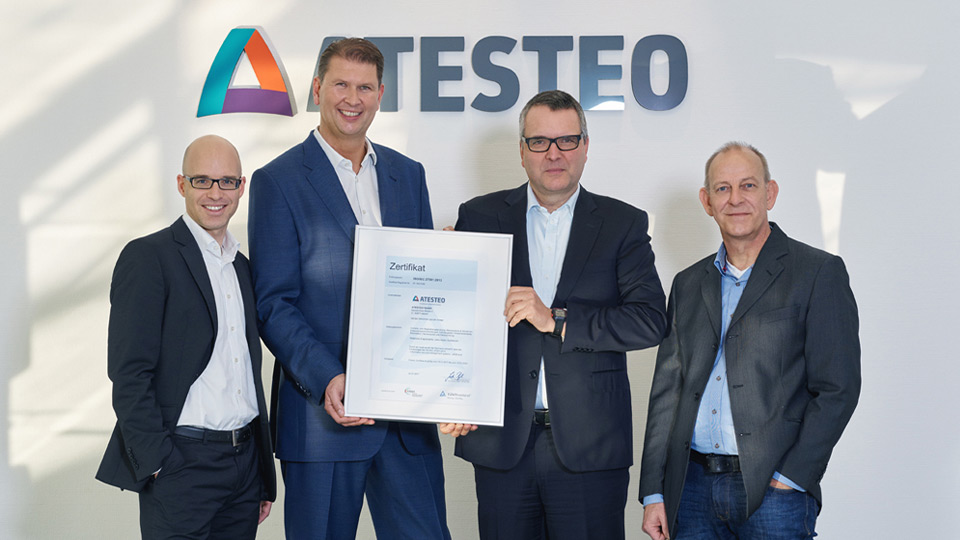 Information security at ATESTEO receives ISO 27001 certificate
At ATESTEO, there is a lot of sensitive and confidential data to secure. Therefore, the leading drivetrain testing specialist continuously invests time and money to meet its own high requirements in this area. By introducing an information security management system (ISMS), ATESTEO has now concentrated all efforts concerning information security in the company. The ISMS provides for confidentiality, integrity, and specific availability of all data and documents.
High degree of data security for all customers
The reliable security of all information within the business processes at ATESTEO has also now been officially confirmed. In a three-day process, the ISMS was tested by the independent experts of TÜV Rheinland and certified in accordance with ISO/IEC 27001. "ATESTEO supports well-known automotive and parts manufacturers during the development of drivetrains and vehicles. During the development process, both the data of our customers and also our results are highly confidential. Therefore, it is our aim to reach a high degree of data security on our company. The Information Security Management System is the key to doing this. It was important to us also to subject the ISMS to an additional external and independent control. With the successful testing by TÜV Rheinland and the ISO 27001 certification as of 19 January 2017, we are now sure of having an effective system," summarised Dipl.-Ing. Wolfgang Schmitz, CEO of ATESTEO, the procedure and certificate.
On 2 February 2017, Ralph Freude, Head of Businessline Information Technology at TÜV Rheinland, officially awarded ATESTEO the ISO/IEC 27001 certificate.